development, improvement, designing
Strengthen your competitiveness with us
Product
development, improvement, designing
Strengthen your competitiveness with us
The development of the right products plays a decisive role in the success of a company. It is necessary to develop products that meet customer needs or awaken new needs in order to achieve the targets concerning sales, turnover and profit and to operate successfully in the market. For a company, the first central question to answer is: "What do my customers really need" – in order to then convert this into products. The second question that a company must answer is: "How can we efficiently make the transition from customer needs to the finished product?" The right answers to these two questions are crucial for the successful and rapid development of products and thus the success of the company.
However, the general conditions under which products have to be developed today are making the work of developers increasingly difficult:
Customer requirements and thus specifications change during the development project.
New competitors, especially from Asia, are appearing who offer products in the lower price segment and require significant cost reductions for the own products.
Uncertainty as to which product technologies are the right ones in the medium and long term.
More and more functions in products to serve more and more diverse market segments. More and more, different disciplines have to work together to develop new products in less time.
Based on the experience of more than 3,500 development projects, which Krehl & Partner has significantly supported, combined with current research findings in the field of product development, Krehl & Partner has developed practical approaches to the design of development organizations and processes. Based on an optimized development organization and suitable processes supported by target-oriented methods, the right products can be developed efficiently.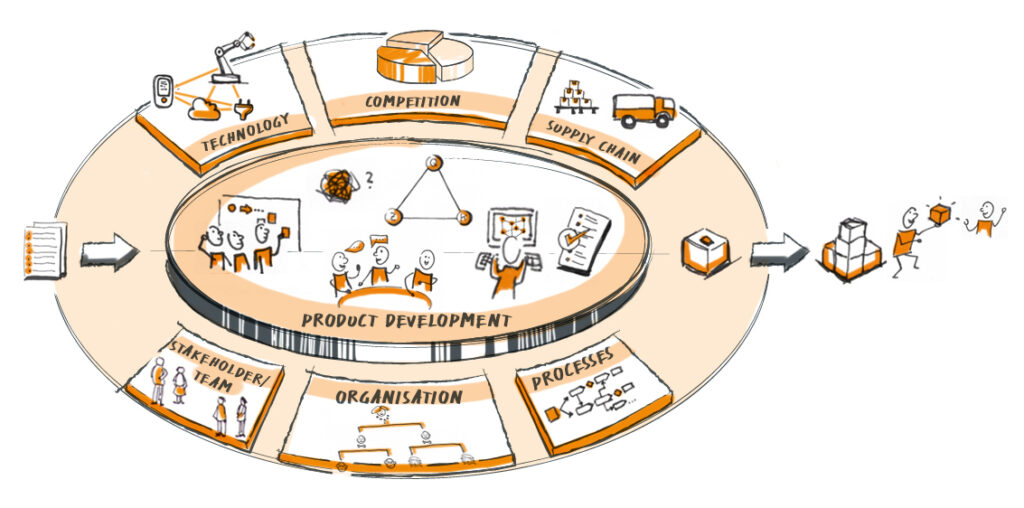 Are you interested in a first consultation or do you have any questions about product development?