management, structuring, integration
Turn projects with us into success
Project
management, structuring, integration
Turn projects with us into success
Project Management is a specialist discipline that is now firmly established in almost all companies.
The reasons for this are increasingly complex tasks and interrelationships, trends and rapidly changing customer requirements. For the successful management of projects under such challenging conditions, Krehl & Partner relies on experienced project managers and a project management approach that complements classic elements such as the work breakdown structure and milestone plan with agile procedures such as sprints and co-location.
Thereby the optimization in Project Management opens up new potentials.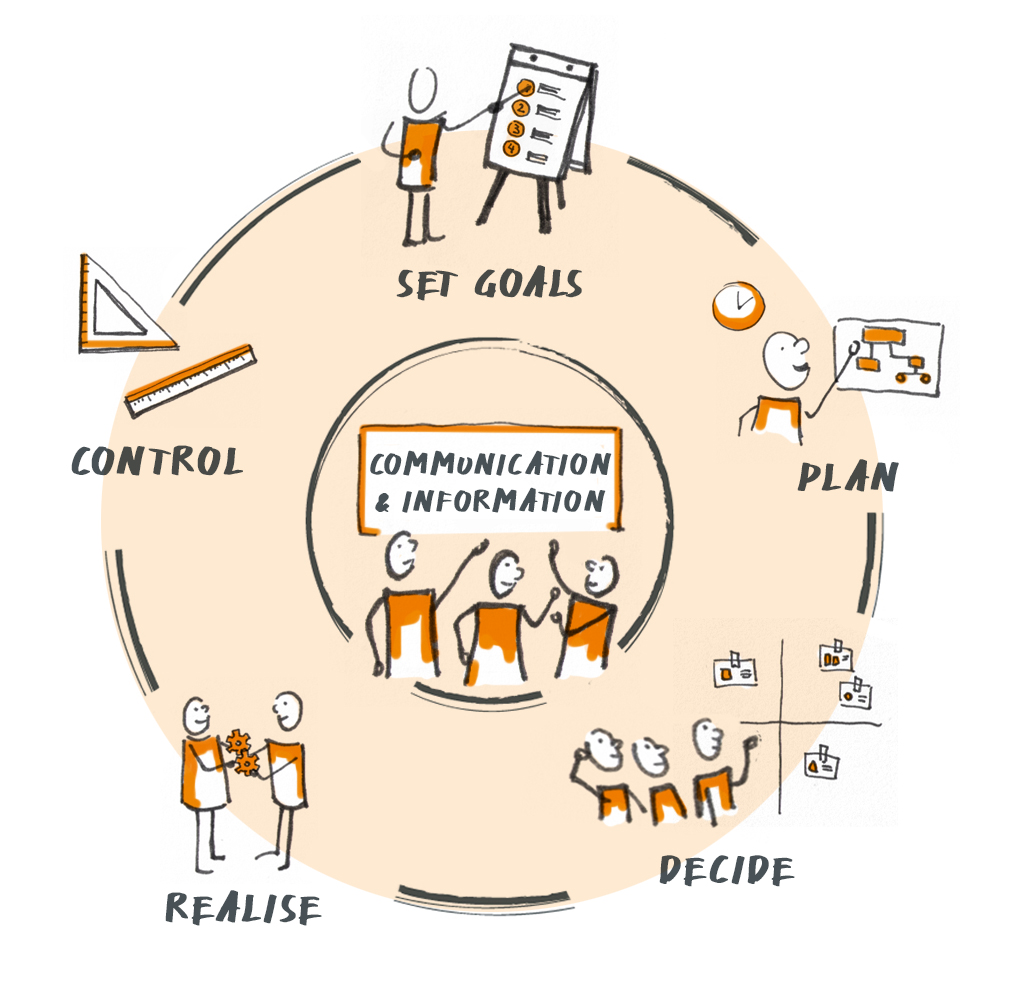 Are you interested in a first consultation or do you have any questions about Project Management?
Optimization in Project Management opens up new potentials
Projects with good planning and good management get into the yield curve faster and higher.
Projects are as old as mankind itself. Pursuing a common goal and implementing a grand plan have given rise to pyramids and temples. Frequently, during the implementation, as "incidentally", from today's point of view, important ideas, such as roles for transport, were created.
However, the systematic approach in a project became established much later. At the beginning of the 20th century, various methods were developed, such as the Gantt Chart. The "race into space" further developed Project Management. The journey into space required completely new ways of thinking, of organizing people and machines. Today, people benefit from the experience and knowledge of such projects.
Today, everyone feels that they are working on projects. This is confirmed by a study conducted by the German Society for Project Management: every sixth euro in Germany is earned in projects.
Project Management has always had the task of organizing complexity and achieving the project goal on the basis of clear structures. Managing a project requires knowledge of the project object and its processing, but not in-depth specialist knowledge. The complexity in particular places special demands on the organisation, planning, monitoring and control of such activities.
Currently we are experiencing how Project Management reaches its limits. Incorrect planning, as in the case of Stuttgart21 (train station) or the "Elbphilharmonie" Concert Hall in Hamburg, shows that the level of difficulty is increasing. The tasks are becoming more complex, trends and rapidly changing customer requirements are determining the market. Classical Project Management methods therefore quickly reach their limits due to a lack of flexibility. As a reaction to this, at the beginning of the new millennium, agile software development developed as a solution approach, which is now increasingly used as agile Project Management.
We support our customers in the application of classical Project Management as well as in the agile approach. Depending on the customer's requirements, we apply both methods in different projects (e.g. product development projects, cost reduction projects etc.) within the scope of Value Analysis / Value Engineering.
We train your employees in Project Management and implement the basics of successful Project Management in your company.